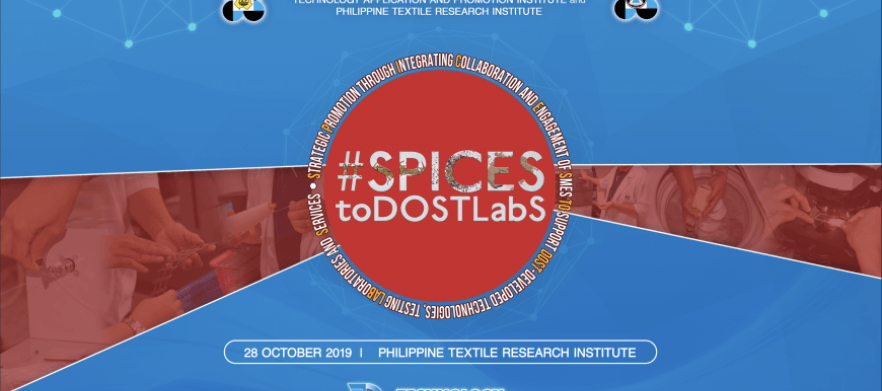 To add flavors in promoting the testing laboratories of the Department of Science and Technology (DOST), the Technology Application and Promotion Institute (DOST-TAPI) organized the launching of #SPICEStoDOSTLabS on 06 September 2019 at the Advanced Device and Materials Testing Laboratory (ADMATEL) Bldg., DOST Compound, Taguig City.
The #SPICEStoDOSTLabS or the "Strategic Promotion through Integrating Collaboration and Engagement of Small and Medium Enterprises (SME) to Support the Technology Transfer and Commercialization of DOST-Developed Technologies including Testing Laboratories and Services" provides a venue for the DOST research and development institutes (RDI) and stakeholders for demonstration, orientation, and dissemination of DOST laboratories and services.
"With this launching, we are one with you in finding solutions to issues relative to your industry in improving productivity through an innovative ecosystem for your operations which improves quality of products or services and increases the quantity of outputs," said Dr. Annabelle V. Briones, Director of the Industrial Technology Development Institute (DOST-ITDI).
Dir. Briones also emphasized the importance of collaborations in creating a harmonious relationship towards a unified goal.
As a series of laboratory visits, #SPICEStoDOSTLabS plans to introduce the premier laboratories of the Department with ADMATEL as the first stop.
ADMATEL is a testing laboratory equipped with advanced analytical equipment for failure analysis and materials characterization including surface and thermal analysis, sample preparation, and external visual inspection.
Conceived from the conduct of DOST-TAPI's Technology Transfer Day in 2016, the event opens and widens the scope of technology transfer and commercialization by tapping the special need of the stakeholders particularly the industry players in engaging in research and development (R&D).
"We came to realize that in order for our stakeholders to commercialize their technologies, they would need assistance to fulfill initial R&D first and that can materialize through the help of our RDI's laboratory services," said Engr. Edgar I. Garcia, Director of DOST-TAPI.
The activity also touches the component of accelerated R&D program for capacity building of RDIs through industrial competitiveness as part of one of the DOST's banner program, Science for Change or S4C.
"As a loyal client of ADMATEL since 2013, I am thankful for their customer-oriented and competent services, high-quality output, and competitive pricing," said Mr. Manuel Almonte, Jr. of Deca Technologies.
ADMATEL's services provide accurate results and short turnaround time at much lesser cost than commercial laboratories among private and government institutions.
"Professionalism, technical competitiveness, reliability, and integrity can be found in ADMATEL's services," said Dr. Julius L. Leaño, Chief of Philippine Textile Research Institute (DOST-PTRI)'s Research and Development Division.
He continued to emphasize that collaboration provides opportunities to corroborate data, maximize the use of resources, and integrate and harmonize to focus for an excellent R&D work.
The next #SPICEStoDOSTLabS will feature the premier laboratories of DOST-PTRI in October 2019.
The launching was attended by at least 75 participants from the industry, academe, and government sectors.